Thru The Links Ltd. is a family run company founded in County Cork, Ireland, now with offices in both Ireland and England. Over time we have developed a highly skilled and knowledgeable team, dedicated to offering a first class, personalised golf travel experience.

Profile: Donncha Hurley – born in Cork, Ireland, Donncha (a traditional Irish name pronounced don-a-ka) is a business graduate who has always had a passion for golf – both for playing and for sharing the game. He currently plays off a six handicap and loves to be on a course, whenever family and business commitments allow.

Donncha has always worked within the golf and hospitality industries.

Donncha has kept Thru The Links as a small, bespoke company in order to ensure that he can maintain the high standards of personal service on which the success of the company has been built

Our Philosophy – our philosophy is to share with you our passion for golf, and for the people and culture of Ireland and the UK through the creation and delivery of luxury golfing experiences. By allowing you to make the most of our local knowledge we ensure that your needs are met and no opportunity is missed, in a way that is worry-free and relaxing throughout.

Through our personalized consultations we bring together unrivalled service and uncompromising attention to detail, to deliver on what you are asking for – this is our mission.

So let the locals look after you.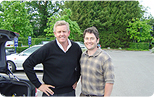 Donncha with 2010 European Ryder Cup Captain Colin Montgomery.